New Book About Horror-Movie Hosts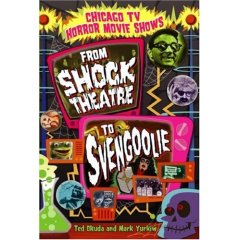 Before cable and VCRs revolutionized movie-viewing, people had to watch whatever was on the tube. Local stations would spice up the programming with low-budget hosted segments. The best Chicago-based shows have been collected in the new book, Chicago TV Horror Movie Shows: From Shock Theatre to Svengoolie.
This is the kind of history book I love — it covers the business side of how movie-packages were sold to stations, and how the overworked creative teams would make a weekly horror program while also producing children's shows and local news. Readers can devour the live-TV antics of hosts like Mad Marvin, Svengoolie and Cleveland's Ghoulardi (who was, in fact, the father of Paul Thomas Anderson). The hosts honed their schtick while introuducing films like Son of Frankenstein , The Devil Bat and House on Haunted Hill , and eventually viewers were tuning in to see the wrap-arounds and not the movie.
Authors Ted Okuda and Mark Yurkiw explore the ways a generation's collective memory was formed by these shows. They speculate that our relationship to movies is shaped by how we watch as much as what we watch.
From Shock Theatre to Svengoolie will appeal to horror fans who didn't grow up in the greater Chicago area: The authors provide a film guide for titles like The Giant Claw and Kronos; there's also a detailed list of collectible super-8 horror movies, a rolodex of rare video sellers, and an index of horror-themed websites.
Naturally, there are plenty of great photos from the films, the shows, and the original ads for Creature Features and Screaming Yellow Theater.
Read More