Mario Bava Haunts L.A.'s American Cinematheque This March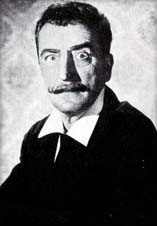 We talk all the time about the difference (and importance) of seeing great horror films on the screen instead of on DVD, and next month L.A.'s beloved American Cinematheque is going to prove this point — big time.
From March 13 to the 23rd, the Cinematheque is hosting Mario Bava: Poems of Love and Death, an exclusive retrospective of 17 Mario Bava films, many rarely screened here in the U.S. Many of Bava's best, from Black Sunday to Danger: Diabolik to Blood and Black Lace , will be shown, with screenings hosted by Bava fans such as Eli Roth and Joe Dante. Dante will also be conducting a Q&A with Baron Blood /Lisa and the Devil star Elke Sommer.
The big screen flatters Bava more than any remastered DVD ever could. Bava's mastery with the camera, along with his use of color and visual storytelling style, made him one of the greatest craftsmen in the genre's history — something this fest will no doubt prove. If you love horror and live in L.A. you must attend some of these screenings.
Read More