Kaiju returns to New York City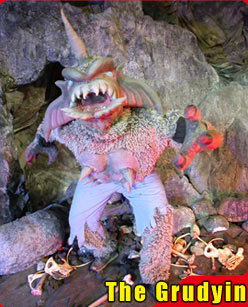 Here at The Scanner we're big fans of Kaiju Big Battel, the live wrestling show that combines Japanese Monster Mayhem with American sportsmanship. In case you missed it, watch our video visit to the November show.
Their new event, themed "New York Blackout," takes place this Saturday night at New York City's Webster Hall. I'm curious to see how the Kaiju team hosts a post-Cloverfield show. The gimmick this time around is that each of the wrestling matches will introduce a mystery black box that contains a surprise, which could be anything from a mystery weapon to a prize for the audience.
At the last show, long-time-loser Call-Me-Kevin was the underdog in the main event. He shocked audiences (and himself) by becoming the Kaiju Champion. This time he'll defend his title against The Grudyin — a mutant, feral gorilla-monster (see photo.) Good luck, Call-Me-Kevin!
For tickets and further info, visit the official Kaiju website.
Read More