John Landis Set for Biopic on Comic Book Great William C. Gaines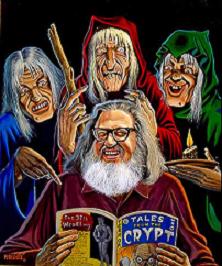 John Landis, the director of Michael Jackson's "Thriller" and Ghoulishly Yours . His subject is William C. Gaines, the larger-than-life figure who ruled EC Comics back when its creators weren't afraid of alienating psychologists and the U.S government.
Gaines went on to create Mad magazine and was one of my first
interviews when I was a teenager. The man was
so large at that time (bigger than in Al Feldstein's artwork), I didn't think he'd be able to get through his office door. But he was a smart, eccentric, gentle soul who took his Mad staff on wacky vacations every year. Given Gaines's creativity and government woes, his story should be a treasure trove for Landis.
Read More