It's Official: Depp, Law and Farrell Replace Ledger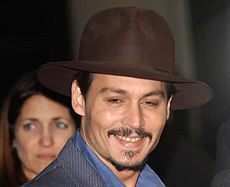 Remember when we told you that Heath Ledger's last film wasn't even halfway through being shot when the actor died of a drug overdose? You read it here at Monsterfest when it was rumored that Johnny Depp might replace Heath Ledger as Tony in the Terry Gilliam-directed The Imaginarium of Dr. Parnassus. Well, the rumor looks like it's come true.
But the news is even bigger than that. In addition to Depp, Jude Law and Colin Farrell will play the same role that Ledger played. Explains Variety, "Ledger's character is transported into three separate dimensions in the fantasy pic; these new worlds, which Ledger accesses via a paranormal mirror, will now be inhabitated by Depp, Law, and Farrell." Talk about making lemonade out of lemons. How can the film lose with such terrific actors joining a cast which already features Christopher Plummer, Tom Waits, and Lily Cole?


Read More