Indiana Jones and the Saucer Men from Mars?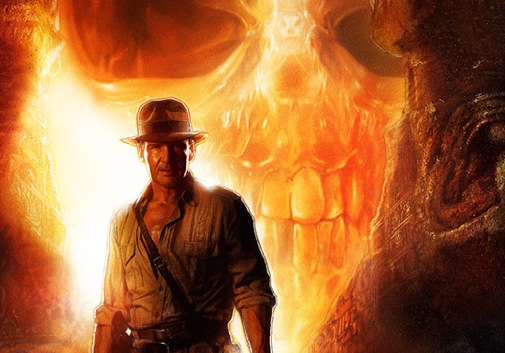 With the Indiana Jones and the Kingdom of the Crystal Skull trailer only a day away, the rumor remains that the film's MacGuffin will be a bloated and mutated crystalline skull. Whether or not we actually get to see aliens in the next Indy movie is questionable at best, but George Lucas has long been obsessed with getting Indy into some fisticuffs with aliens.
Over at thedeadbolt.com, Tom Burns has posted summaries of earlier drafts for Indiana Jones 4, ranging from the probably-authentic to the laughable. One script in particular, though, seems to indicate that the plan has been for Indy to visit Area 51 since The Last Crusade : The unproduced script for the unimaginatively titled Indiana Jones and the Saucer Men From Mars.
The synopsis:
Set in the 1950s, Indy gets left at the altar by his
linguist fiancée (no foolin'), so he follows her to White Sands, New
Mexico, where he discovers that the U.S. Government has obtained a
strange alien knick-knack from a crashed flying-saucer. But both the
Russians (and some little green men) want the artifact for themselves.
The script write-up reads like fan fiction, with a wedding ceremony
attended by Short Round and Indy taking the controls of a UFO for a
space ship dogfight above Roswell. Let's hope Crystal Skull uses the alien MacGuffin a bit more deftly than that.
Indiana Jones 4: The Scripts That Weren't [The Deadbolt]
Read More