Horrorific Hairdos Reign Supreme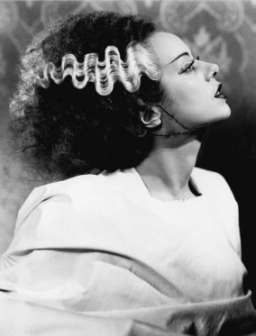 Is it just me, or do horror and hairstyles go eerily hand in hand? Take a look at AMC's Classic Hairdos poll and you'll see several contenders suggesting that horror filmmakers, like beauticians, like to work from the top down.
When Mia Farrow got her boyish cut for Rosemary's Baby, she didn't just establish a character — she made headlines. That new look inspired many a gal to bare her neck even as it added a dramatic vulnerability to Rosemary's plight. More recently, Tim Burton riffed on his own crazed hairstyle in Edward Scissorhands by having Johnny Depp sport a spikey homage to Goth culture.
Of course the queen mother of mad makeovers is Elsa Lanchester in Bride of Frankenstein. That mile-high haystack will forever be associated with light-sockets and warnings of what not to put in them. The Bride currently has a lock on the AMC poll, with Depp hot on her heels. But no matter who wins, it proves what fans already know: beauty fades, but horror lasts forever!
Read More