Horror Surfer: Say Cheese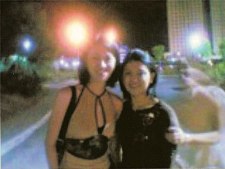 • I Know Who Killed Me got Razzed yesterday. By winning eight of its nine nominations at the 28th Annual Golden Raspberry Awards, the film became the biggest "winner" in Razzie history. That means it's worse than Showgirls.
• Bigfoot believers suffered a setback on February 22 when famed tracker Sam Sherry, who spent years baiting the beast, passed away at age 86. For more on the man and his mission go to Cryptomundo.
• Before Shutter, about ghostly images appearing in photographs, opens in theaters March 21st, you might want to review the Best Ghost Photos Ever Taken at About.com. The ghostly grip pictured here is said to have been taken around the year 2000 and comes from the Ghost Research Society.
• Shocktillyoudrop.com has four exclusive production stills from Beyond the Grave, the Brazilian horror-fantasy film about a cop dodging zombies to catch a supernatural serial killer.
Read More