Horror Surfer: Mental Scars, Scary Toys, and Dangerous Tattoos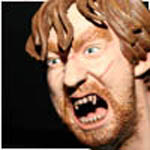 • The Lupin werewolf pictured here is just one of the new Harry Potter items showing at Toy Fair 08. For more about the "rather alarming Remus" mini bust and other frightening Potter figures go to The Leaky Cauldron.
• Wanna be in a horror movie and live near Fisher Indiana. The low budget but ambitious horror flick Mental Scars is now casting. All they ask is that you "be committal, honest, dependable, passionate, positive, open minded, selfless, talented and willing to make this an experience that you'll never forget."
• Can actor Jesse Metcalf break away from Desperate Housewives by breaking into an asylum? Fangoria talks to Jeff Buhler, director of Insanitarium, about casting the hunk in horror: "I believe this film will make people re-evaluate what he is capable of."
• Do you have a tattoo or does it have you? Read about Bloodline, the first American animated feature-length horror movie. According to The Providence Journal, animators plan to show how "Sometimes, the ink goes straight to your soul."
• Get ready for Planet Terror on DVD. Rose McGowan talks with thehollywoodnews.com about that fake leg and go-go dancing for grindhouse horror.
Read More