Horror People: Michael Gingold
The first in a weekly series of the people who work in the horror industry.
Name: Michael Gingold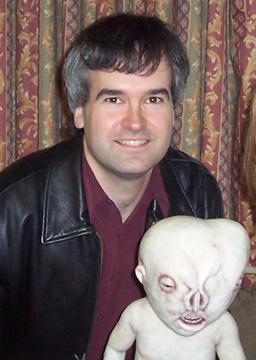 Job: Managing Editor, Fangoria Magazine
Favorite Horror Movie: Halloween
Q: What exactly does being Fangoria's managing editor entail?
A: Basically, I'm involved with every step of putting the magazine together, from copy-editing to proofreading to going over the final layouts, as well as writing captions, DVD reviews and several of the secondary departments like the contents, ect. In addition, I handle the updating of our website and write a number of the reviews and news items that appear there. One thing that takes up quite a bit of time is keeping up with all the horror DVDs for the release lists I put together both on-line and in the magazine.
I also write an occasional feature story for the magazine or the site; I'm pretty plugged into the independent New York horror scene, so it's nice to be able to promote lesser-known filmmakers that way.
Q: What are some of the perks of the job?
A: Journalistically speaking, in the current horror scene that's crowded with new websites, having the established Fangoria name behind me is a definite plus when it comes to getting interviews and other material. Personally, it's fun to see new and exciting horror films in advance, and even better to discover a good one that no one else has heard of or written about yet.
Q: Where do you see Fangoria magazine in ten years?
A: In today's media age, the very question of whether Fangoria will still be a magazine in ten years is an interesting one. Even with the Internet taking over, the mag has managed to hang in there while numerous other print publications have folded, and we're still selling well. But I'm sure that Fango will be a much bigger and broader web presence a decade from now. We're planning to upgrade the site this year and will continue to do so as time goes on, but the bottom line is that we'll continue to make the coverage as good as can be, no matter what the medium it's being conveyed on.
Q: You've also written numerous low-budget horror movies, such as Leeches and Shadow: Dead Riot. Do you have any more movies in the pipeline?
A: The Ocean, a movie I wrote with director Dante Tomaselli, is supposed to start shooting on location in Puerto Rico this winter. I'm really excited about this one; I think it's some of my best work as a writer, and the collaboration with Dante has been the easiest and most creatively satisfying experience I've had. We've also got a strong cast led by Dee Wallace and Dominique Swain, so I'm anxious to see how it turns out!
I'm, also hoping to shoot a project of my own this year, and I'm working on that script now. It'll be very low-budget, but knowing that in advance is helping me shape the material into something I can afford.
Read More