Horror Highlights at South by Southwest Fest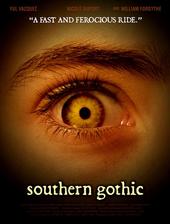 South by Southwest Film Festival, which this year runs from March 7-15, has a decent selection of horror films ready for its 'Round Midnight series. If you're heading to Austin this year for the big fest, you may want to check out:
Dance of the Dead – On the night of the big High School Prom, the dead rise to eat the living, and the only people who can stop them are the losers who couldn't get dates to the dance.
Not Your Typical Bigfoot Movie – Two Bigfoot researchers transcend the "harsh realties of life" while trying to prove the hairy monster really exists.
Otis – Otis is about the hack and slash life of a nasty serial killer.
Shuttle – There's horror everywhere these days, even in a late night bus ride from the airport.
Southern Gothic — In this horror thriller, "A man must atone for a tragic mistake by saving a little girl from a band of ruthless undead killers." Watch out for that creepy preacher, too.
Read More