Hellboy II Comic: The First Five Pages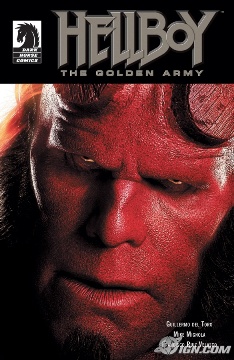 When your comic book becomes a movie and vice versa, the tie-in possibilities are endless. Dark Horse Comics is treating Hellboy fans with an introduction to this summer's surefire blockbuster, Hellboy II: The Golden Army. A 16-page comic book will serve as a prequel of sorts, offering a glimpse of what the "Golden Army" actually is, and what sort of adventures lie in wait for our big red hero. The book will be available at various comics conventions.
Unable to attend WonderCon to pick up your own copy? Well, you're in luck! The first five pages of it are already available online. Not as collectible, perhaps, but just as handy. And even these paltry five pages — a bedtime story for little Hellboy as he snuggles into his Army-base bed on Christmas Eve — are a big help as far as prepping people for the central plot of the film, a war between the mythical and human worlds.
Read More