Ghost Rider Scares Up Saturn Award Nomination in Wrong Category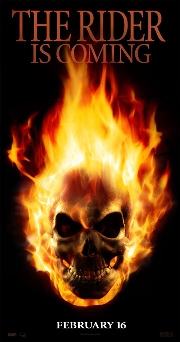 The Saturn Award nominations were announced yesterday by genre film specialists, The Academy of Science Fiction, Fantasy and Horror Films. Strangely, Ghost Rider is up for Best Horror Film of 2007. Sure it has the word Ghost in the title and the comic book character's skull bursts into flames when he's controlled by the Devil but — really? Can a movie that is so clearly made for matinées and mass consumption be the best Horror film of the year? If the name alone does carry some weight, these voters should know better: The Academy was originally called "The Count Dracula Society."
The other horror nominees are, for the most part, less controversial. Burton's Sweeney Todd
leads the genre with eight nominations. Director Guillermo del Toro
will receive a special award, as will Tim Lucas for his 2007 book: Mario Bava: All the Colors of the Dark.
The nominees for Best Horror Film are…
30 Days of Night
1408
Ghost Rider
Grindhouse
The Mist
Sweeney Todd: The Demon Barber of Fleet Street
This
year's show (now in its 34th year) will take place on Tuesday, June 24,
in Universal City, California. For a complete list of nominees in all
categories click here.
Read More