Futurama Toys Grotesquely Mock Anatomy, Are Adorable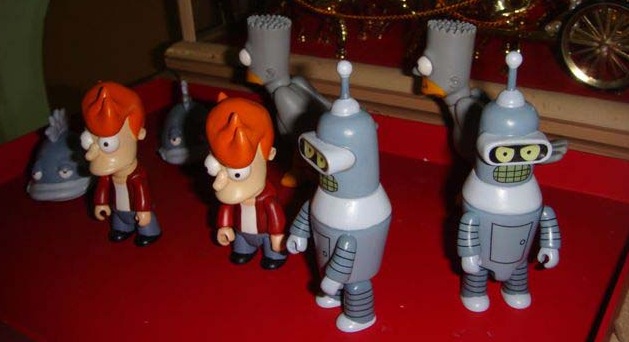 Hydrocephalism is rampant in the world of vinyl toy designs. It's true: You can scarcely pick up a Hello Kitty doll or a Powerpuff Girl without finding yourself looking face to face with a endearingly neotonous mutant. With an enormous, fluid-filled skull grotesquely wobbling on top of a Lilliputian's torso, the eyes bulge, retinas protruding like the yolks of hard boiled eggs gently squeezed. In real life, the only way to see such a human would be to stare at them through an airlock door as their head exploded in the vacuum of space. Yet somehow the human brain is wired to think such abstract gigantism is adorable.
So behold, ye mortals, and "Awwww!" at the site of these beautiful Futurama bobbleheads, designed by Toy2R and Diamond Comics Distributor. Due out in July or August, the series of hydrocephalic Hummels will launch with Fry and Bender figurines, followed by Leela, Nibbler and "variant" figures as well.
What's a variant figure? It's a cheap paint job, basically. For example, the Bender figure can become "Flexo", Bender's twin brother, with the deft addition of a Goatee, or Gold Bender with a coat of gold-flecked paint. Similarly, Fry can become Clone Fry by removing his hair and adding a Goatee. Collectors love this jazz.
I got to admit, I love them, grotesque parodies of human anatomy or no. I'm enough of a Futurama fan to want one of these staring down at me from the top of my monitor.
[WORLD PREMIERE] FUTURAMA QEES SNEAK PEEK! [Wizard Universe] (via SF Signal)
Read More