From Gore to Hard Core: Radley Metzger's Life After The Flesh Eaters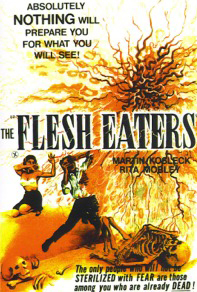 With scenes featuring flesh devouring microbes gnawing and eating
their way into legs, faces, and famously out of Ray Tudor's stomach, it was The
Flesh Eaters that pioneered the art of
the "gore" film back in 1964. Director Jack Curtis would die of pneumonia in
1970 without making another film, but the editor of The Flesh Eaters, Radley Metzger, moved
into the director's chair to create his own groundbreaking work — in the world of
adult films.
Metzger's
shift from editor to stylish porn director began when he decided to import I, a Woman
in 1966, a Swedish sex film which became a huge success in the US. He decided to direct his own soft core film the following year, and with
the release of Carmen,
Baby, he began his career as an auteur of adult films.
His early work — The Lickerish Quartet (1967), Camille 2000, and the commercially
successful Therese and Isabelle
(1968) — was
considered more elegant and worldly then those of his peers. Fittingly, during the
"porno chic" era of the 1970s, Metzger adopted the more sophisticated-sounding pseudonym, Henry
Paris, and directed several other highly successful films.
A fan of Max Ophuls and Orson Welles, Metzger did direct
one mainstream feature, The Cat
and the Canary (1978), but his work in the "golden era" of adult cinema
is how the editor turned director will be remembered. It was his 1976 film, The Opening
of Misty Beethoven, that garnered him his biggest prize: Best Director and Best Film honors at the first Adult Film
Association of America Awards.
Flesh Eaters airs tomorrow, Saturday, March 1 on AMC at 4:45AM | 3:45C. For the full schedule, click here.
Read More