First Look At Dark Knight's Two-Face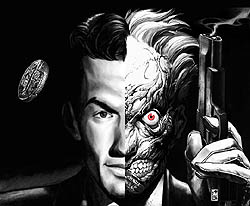 From someone's cell phone, captured through a lens that appears to be coated in petroleum, comes the latest Hollywood spoiler: An exclusive first look at the acid-scarred Harvey Dent from Christopher Nolan's upcoming Batman Begins sequel, The Dark Knight. Click through to Dark Horizons to see the figure in its blurry glory.
We've known for awhile that Harvey Dent was due to make an appearance in this one, but there was no confirmation that he would become Two-Face during the film, which largely focuses on Heath Ledger's Joker. This toy — part of the official Dark Knight line-up of action figures — seems to confirm that the scene will be set for a third Batman movie by making sure Harvey Dent is good and scarred by the end of the film.
What we can see of this iteration of Two-Face is that he will eschew
the flash enantiomorphic suits of the comic book version, or Tommy Lee
Jones' execrable stab at the villain in Batman Forever. However, like
Jones' Two-Face, they are really going for the chemical burn look here:
the right hemisphere of Two-Face's visage is a melted lump of pulsating
skinless flesh, without the clean divide between hemispheres seen in
other versions of the character. Looks like they are still trying to
stay within the realist school of Batman villain design, as illustrated
by Ledger's chemical-scarred Joker.
Exclusive: First Two-Face Toy Photos [Dark Horizons]
Read More