Find Your SciFi Self on a Wedding Cake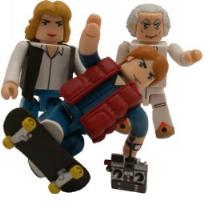 My friend Mike just got engaged, and my first thought was: What will his wedding cake topper be? This is a burning questions for any engaged Science Fiction fan. Will you go classic and use The Bride of Frankenstein with The Creature? Perhaps you'll dig up your old Star Wars figures and present a cake with Han Solo and Princess Leia. Whatever you choose will say a lot about you as a couple.
For example: Edward Scissorhands and Kim never consummated their love. Chucky and his Bride are killlers. The Smurfs are a little creepy. Shrek and Fiona are simply not retro enough.
For my wedding party my wife and I decided on Zira and Cornelius, from Escape from the Planet of the Apes. We liked that they are equals, they're smart and courageous, and in the third film in the POTA franchise, they find themselves at the beginning of an incredible journey, much like marriage itself. (Of course we hoped our wedding day would not end with us getting gunned down on a boat by Dr. Otto Hasslein.)
Whether you're shopping for a wedding cake topper, or you just want to see some cool action figures, here are some sites worth visiting:
Medicom Toy Store has a wide variety of Kubrick toys including figures from Back to the Future, Batman and Smurfs.
Monster Island Toys is your one stop shopping for Godzilla-themed creatures, X-Men, Transformers and Underdog.
Star Store has a everything from Futurama favorites to Lost action figures.
Read More