Final Destination 4 To Open With a Bang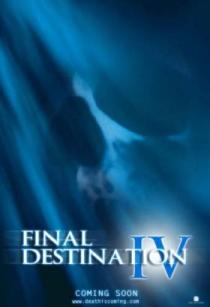 Final Destination 4 may be tied down to the series' basic plot formula (kids cheat death, death collects with interest), but filmmakers are at least planning to put you closer to the grisly action. Bloody-Disgusting spoke to producer Craig Perry about the latest wrinkles that will make FD4 stand out from its predecessors, and about the details of its opening catastrophe.
This time around, our unlucky teenage disposables will find themselves ducking debris from a deadly crash at a NASCAR-style racetrack, Perry confirmed. That actually sounds pretty scary when you consider that the movie will be shown in 3-D. "The high-def 3-D technology they're using is the exact same system as the one James Cameron is using for AVATAR," B-D reports. Perry hopes to make the most of the 3-D experience, adding gravity instead of gimmickry to the project: "Having something pop out at the audience every four minutes gets boring." That may be true, but something tells me they'll find plenty of ways to keep our attention.
Read More