Fear Friday: The End of an Era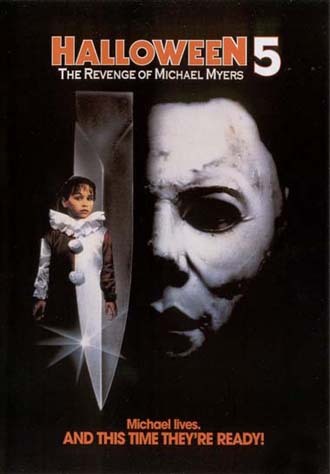 If you were worried, last week, that you'd seen the last of Michael Myers in Halloween 4 , fear not. In Halloween 5 he's back, literally, with a vengeance: The film is subtitled. The Revenge of Michael Myers.
Shot for a mere $6,000,000, Halloween 5 was the last to capitalize on the wave of '80s slasher films, which had begun to peak by its 1989 release. Six years later, the franchise would be sold off to Miramax's Dimension Films–home of such 90s horror staples as Scream and From Dusk Till Dawn, in addition to recent successes like Stephen King's The Mist–where it would launch the careers of stars like Paul Rudd.
But for now, Revenge does what slashers do best–it revels in the gore and mayhem of the moment, without getting too bogged down in minutiae like, well, the plot. Do we honestly care how Michael keeps surviving into the next film? Not really. What we do care about are the seminal moments that distinguish this film from the rest: The moment when Michael finally takes off his mask; the moment when Dr. Loomis (played by franchise mainstay Donald Pleasance for the second-to-last-time) expertly bludgeons Michael with a 2 x 4; and of course the now-infamous accidental nipple slip.
In the eighties emerged all sorts of one-named undead creatures hell-bent on slashing up teenagers; it lent true meaning to the term "popcorn fare." For those of us who long for movies that don't contain a "vs." in the middle of the title, these films represent the best horror had to offer. So grab a bowl of Orville and enjoy the era's last unfettered, unadulterated, good old fashioned bloodbath.
Halloween 5: The Revenge of Michael Myers airs tonight, Friday February 1 at 2:30AM | 1:30AM C on AMC
Read More