Fear Friday: Survival of the Hottest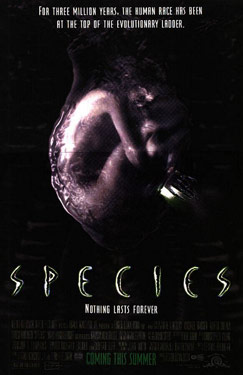 For many, the most breathtaking movie moment of 1995 wasn't the revelation of Keyser Soze in The Usual Suspects or the climactic battle scene in Braveheart . No, it was the moment the camera settled on Natasha Henstridge, the gleaming, naked alien-human hybrid from Species.
As a too-smart-for-her-creators DNA experiment gone wrong, Henstridge's supple Sil was an escape artist wreaking havoc. Sexual havoc. Species is essentially the non-art movie version of Alien Resurrection . (H.R. Giger designed the aliens in the movie, so there's some literal truth to that assertion.) And Sil handily inverts the horror formula. Rather than a crazed knife-, chainsaw-, hammer-wielding maniac preying on scantily clad teenage girls, this terror goes after the males of our species, hoping to procreate herself an invincible alien-human back-up army.
For such a pulpy-hearted film, Species boasts a cast that
reads like an indie awards ceremony: Alfred Molina, Ben Kingsley,
Forest Whitaker, and even a young Michelle Williams all have roles. Much
more impressive than Jennifer Aniston's turn in the (admittedly much
lower budget) Leprechaun.
Species plays tonight Friday, February 8 at 10:45 PM | 9:45C. Click here for full schedule.
Read More