Exclusive: Producer Roy Frumkes Plans Street Trash… 3?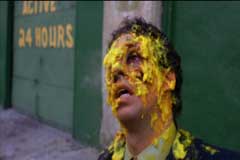 Writer-producer Roy Frumkes discusses his cult classic Street
Trash, documenting Dawn of the Dead, and which horror film
will teach you all you need to know about filmmaking.
Who: Roy Frumkes
Horror Job: Writer-Producer (Street Trash, Document of
the Dead, The Substitue )
Favorite Horror Movie: Night of
the Hunter. "It's unique. The script, the score,
Mitchum — it influenced my own screenwriting style."
Q: When you were
filming Document of the Dead did you realize you were witnessing a classic in the
making?
A:
I knew I was on the set of a talented filmmaker, but no, everyone there was
apprehensive they'd strayed too far from the tone of the original Night of
the Living Dead. The colors in that mall were mind-boggling: It
was like being inside of an op-art painting. And the war film aspects were
so new — it was a worrisomely hybrid genre film. But George's vision proved
viable.
Q: What is your
fondest memory of the shoot?
A:
Probably getting made up as a zombie by Tom Savini. He's a great artist,
the Salvador Dali of the make-up field, and he literally turned me into a work
of art. Of course, the cream pie in my face an hour later obliterated any
traces of his art, but I still have the photographs to remind me of how I
looked.
Q: How did Street
Trash come about?
A:
A student of mine at the School of
Visual Arts (SVA), Jim Muro,
had the idea and did it first as a short. Apparently one of his relatives had
become a derelict and as a child, he and his family stumbled across the guy in
the Bowery. So Jimmy had always been fascinated by New York City's homeless sub-culture. Sensing
his limitations as a screenwriter, he approached me to write the feature
version, and I offered to produce it as well. The rest is history.
Q: Last year you
and Muro announced you're doing Street Trash 2. Can you give us
any updates?
A:
I see it as Street Trash 3 — because 20 plus years is just too long for
it to be number two. The screenplay is finished, and all the actors from
the original ensemble cast are set to come back, some reprising their roles. Others,
who were melted beyond redemption, are being reinvented in new roles. Whether
it gets made, however, is in the hands of the cinema gods.
Q: You teach film.
What is the one horror film students can learn the most from?
A:
Well, at SVA it's Street Trash, because I have so many personal
insights into its production. But objectively, probably Night of the
Living Dead. It is the essence of an independent film. It's open to
analysis and it was mishandled by its creators financially, so it's a
cautionary tale students can certainly learn from.
Read More