Exclusive: Diary of the Dead DVD Producer Spills Beans, Not Guts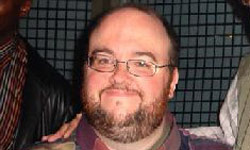 Name: Michael Felsher
Horror Job: DVD Producer with Red Shirt Pictures ( Diary of the Dead , The Monster Squad , Creepshow )
Favorite Horror Movie: Dawn of the Dead
Q: How did you come to produce the DVD for Diary of the Dead?
A: I had known George for a number of years through my time at Anchor Bay Entertainment where we worked on a number of DVDs of his films (Dawn, Day of the Dead, Knightriders). And also John Harrison, the film's executive producer, and I were good friends as well… When I heard about Diary going into production, I lobbied for the job as much as I could (i.e. made a pest of myself) and they brought me to Toronto for a month to document the whole Diary experience. That was one of the best times of my life… so far.
Q: I understand that some of your behind-the-scenes footage actually turned up in the movie. How did that happen?
A: Oh, well we shot some behind-the-scenes "confessionals" with the primary cast for use as DVD Special Features… One of them was with Diary's lead character, Jason Creed (Josh Close), and apparently George liked it enough that he chose to feature it near the end of the film.
Q: What other projects are you working on?
A: After Diary I've got a full slate. I'm working on a Faces of Death retrospective for a new Gorgon Video release later this year as well as Pumpkinhead and Hellbound: Hellraiser II DVD re-issues as well. Also look for Dark Sky Films' release of Simon – King of the Witches in a few months. I have two featurettes on that one. Great little movie and it deserves to find a new audience!
Read More