Ex-Buffy Writer Returns to…Buffy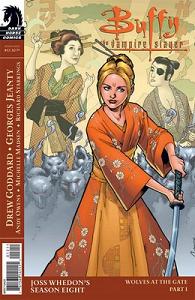 Drew Goddard has rarely been in need of a gig in Hollywood. After Buffy The Vampire Slayer, the scribe had stints on Angel, Alias and Lost. Most recently, there was a 'little' film called Cloverfield, which Goddard penned. With all that work and all that Hollywood money piling up, you'd think Goddard would spend his spare time relaxing, or on some nerdy delight like collecting action figures. But any writer knows to strike while the iron is hot — because you never know when the gigs will dry up.
Maybe that's why Goddard is keeping busy with a new mini-series of Buffy the Vampire Slayer comics. According to Cinematical, "In his 4-issue arc, called Wolves at the Gate, the vampire slayer heads to Tokyo to fight not werewolves, but the fanged ones." Arigato, Mr. Goddard! All this prompts Cinematical to muse upon the possibility of a new Buffy movie. That's not going to happen any time soon. The comic book, however, looks fetching.
Read More