Entering The House of the Devil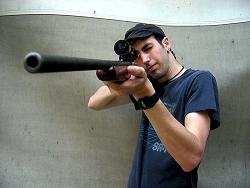 Larry Fessenden never seems to stop. If he's not directing a horror film, he's acting in one. If he's not acting, he's producing. Such is the case with The House of the Devil, which Fessenden has a hand in producing. Directed by Ti West (Cabin Fever 2, Trigger Man), the film, according to IMDB, has an intriguing plot: "In the late 1980s, college student Samantha Hughes takes a strange
babysitting job that coincides with a full lunar eclipse. She slowly
realizes her clients harbor a terrifying secret; they plan to use her
in a satanic ritual."
West (pictured) will begin shooting in Connecticut next month,
assumably with Satan in tow. The question still to be answered is: Will
the movie be more in the typical slasher vein of Cabin Fever 2 or will it be like the tense, synapse-singing horror drama that was Trigger Man (which also starred Fessenden)? Best bet? Larry will probably make an appearance, in a small role, in The House of the Devil.


Read More