Enemy Mine: The Sleeper That Almost Wasn't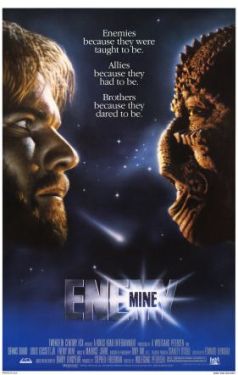 Once upon a simpler time, all it took to end a bitter interstellar war was getting stranded on a hostile alien planet with your sworn enemy.
That's the message behind Wolfgang Petersen's underrated thriller, Enemy Mine, a film that has garnered a cult following among sci-fi fans for its strong performances (Louis Gossett Jr. as the reptilian — and surprisingly fertile — alien "Jerry") and nifty pre-CGI makeup and creature effects. But the film that you probably discovered in a dusty corner of your video store during the '80s almost didn't happen.
Suddenly red-hot after Das Boot and The Neverending Story , Petersen was brought in by Twentieth Century Fox to replace British director Richard Loncraine who had already filmed a large portion of the film before the studio shut down production. The old maxim of "creative differences" (and a ballooning budget) caused tensions between Loncraine and Fox. Petersen came on board the troubled production and delivered the commercial film the studio was looking for.
But it was another bit of interference that would end up irking fans of
the original novella upon which the film was based. Concerned that
audiences would be confused by the possessive pronoun in the title (as
in, "the alien is an enemy of mine"), Fox mandated a subplot
involving an abandoned mine and some nefarious human miners be
worked in. A more literal example of studio meddling you'd be
hard-pressed to find. One can only imagine the exec who looked at
Loncraine's original cut of the film and said, "Not bad. But where's
the mine?"

Enemy Mine airs Friday, February 29th at 1PM | 12 C. For a complete schedule, click here.
Read More