Eli Roth Gets His Own L.A. Film Festival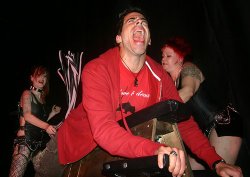 After hosting Edgar Wright's The Wright Stuff Festival two months back, L.A.'s New Beverly Cinema (under the auspices of a currently nameless but supposedly Oscar-winning new owner) is now giving Eli Roth a chance to screen some of his favorites with The Greats of Roth, a two-week run of Roth's picks. Starting on February 17 with personal introductions by the man himself, this festival promises other special guests although they're currently TBA.
The lineup includes such genre faves as Sergio Martino's Torso paired with Juan Piquer Simon's Cannibal Holocaust and Umberto Lenzi's Cannibal Ferox (a.k.a. Make Them Die Slowly). Also scheduled is such offbeat fare as Menahem Golan's The Apple and Brian Trenchard-Smith's incomperable Stunt Rock. This is going to be some fest. Get the full schedule here.
Read More