Doris Roberts Turns Into a Zombie at Age 77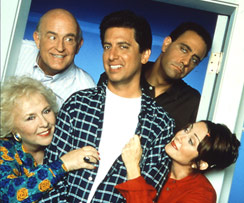 When you see Doris Roberts pictured here, clawing Ray Romano, with the cast of Everybody Loves Raymond, it's not that hard to imagine her as a zombie. After nearly 10 years as the menacing mother on the sitcom, the actress is now, at age 77, turning into the living dead. It's for the film They Came from Upstairs currently shooting in New Zealand. "I play a sweet grandmother and I get zapped by aliens and become a zombie. It's a great role…" she told The Daily Telegraph while on a break in Australia before heading back to the set.
The sci-fi film, scheduled for release in early 2009, is probably more Home Alone than horror. Set in Maine, the plot involves a group of kids that must protect their vacation home from invading aliens. It's sure to be a big hit with a younger generation of horror and sci-fi fans. The actress said her grandsons insisted she do it.
Read More