Did Horror Sweep the Oscars?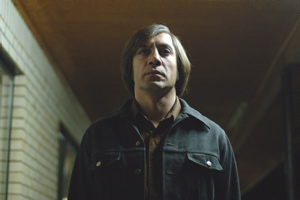 Sure, it stinks that Johnny Depp didn't win Best Actor for Sweeney Todd . But when you examine last night's Oscar winners closely, you just might conclude that horror swept the Oscars. Here's what I mean:
1) Sweeney Todd captured two statues — one for art direction and one for costume design. Nothing stellar, but not a bad haul.
2) No Country for Old Men — At its heart, this adaptation of Cormac McCarthy novel's is a serial killer story full of horror elements. Even the weapon Javier Bardem's psychotic character uses is straight out of Writing for Horror 101. Of course, with masters like McCarthy and the Coen brothers at the helm, it's no wonder that the movie took home four statues, including Best Picture
3) There Will Be Blood — Daniel Day-Lewis, this year's Best Actor, is the Frankenstein who unleashes the monster — oil — upon the world. Day-Lewis will stop at nothing to win, and that makes him evil, even devilish.
Conclusion? Horror did score at the Oscars in 2008 — even if there were no zombies and slashers.
Read More