Dead of Night Honors Many Icons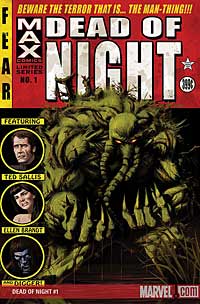 If you head to your local comic book store this week, you'll find a brand-new four-issue horror series from Marvel called Dead of Night. Over at Comic Book Resources, you can read an in-depth interview with the series writer Roberto Aguirre-Sacasa, who says, thought it would be nice to tell a Man-Thing story but what I really
wanted to do was sort of my own take on those '70s style mutant horror
films, like The Hills Have Eyes ." It's not the only tribute going on either. The first Issue is a tribute to the EC style of comics whereas Issue 2 resembles the old Eerie and Creepy mags of the '60s, and Issue 3 nods to '70s-era cannibal tales. The final installment is an ode to James Cameron's Aliens . Check out Comic Book Resources for the full-page artwork.
Read More