Daily Scan: 02.29.08 (Leap Year Edition)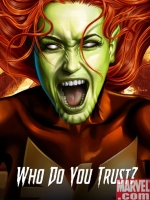 • The Slushee Machine that traveled through time to warn us of the parched future that could be, and may yet still come to pass!
• You, too, can build a cardboard spaceship!
• A Chinese dub of Transformers: the Movie. Trust me on this, wait for Soundwave to speak. It's my new ringtone.
• Marvel wonders which alien doppelganger of your favorite hero you trust.
• Jericho saw a healthy boost in its ratings Tuesday, up against the clunker Quarterlife instead of Law and Order. That might not be enough to save the show, though.
• A picture is worth a thousand words, unless those thousand words are the graphomaniacal ramblings of a scorned Star Wars lover.
• io9 writes up assorted facts about the movie that made me, at
5-foot-7, believe a black market surgeon could cut my legs in half and
insert titanium rods to make me taller: Gattaca.
• Steampunk Magazine's fourth issue is available.
• O quae delicae! The best literary pastiche I've seen since Max Beerbohm's A Christmas Garland: If Diablo Cody Wrote Star Wars.
• Sigourney Weaver continues her press tour for James Cameron's Avatar, and once again fails to say anything significant whatsoever.
• WALL-E has a new poster.
Read More