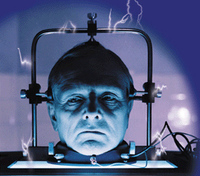 • Bulgakov's Master and Margarita is being adapted to the screen. Interesting, though like Chesterton's Man Who Was Thursday, it's really far too ponderous and surreal to do well. Fun fact: Bulgakov also wrote a story in which a mad doctor implants human testicles on a dog, predicting the work of famed mad scientist Dr. S.S. Bryuhonenko.
• You, too, can own a photocopied Viper Jockey license.
• Why you should read Jumper instead of checking out the Hollywood stinker.
• Elijah Wood, his eyes bright with mania, thinks del Toro is perfect to direct The Hobbit."
• For you WonderCon celebrants, a complete history of the American sci-fi convention.
• An absolutely gorgeous gallery of every sci-fi movie poster under the sun, or beyond it.
• There's a new teaser trailer for Neil Gaiman's Coraline,
the charming children's story of a little girl kidnapped by her
alternate-universe mother who wants to sew buttons into her eyes.
• io9 hosts a Saturday morning cartoon in the form of the Pixar short, Lifted,
"the story of an unfortunate alien named Stu, who is trying to abduct
his first sleeping farmer from Earth, while being graded by the ominous
Mr. B."
• SciFi Drive covers the evolution of science fiction cinema in the early 20th century.
Read More