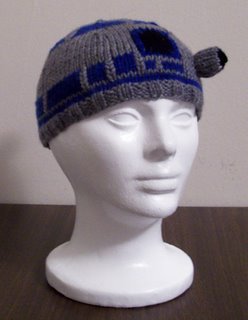 • A complete and fascinating look at the utter uselessness of the NASA's manned spaceflight program: "While the Shuttle has been up on blocks, a wealth of unmanned probes has been doing exactly the kind of exploration NASA considers so important, except without the encumbrance of big hairless monkeys on board."
• More steampunk Justice Leaguery, this time courtesy of Flickr: The Guild of Justice-Minded Citizenry.
• Start knitting this R2D2 cap for next ski season.
• io9 really likes this web-based Firefly would-be, Venus Rises.
• Jason Statham seems to get positively violent when someone claims Death Race is anything as pedestrian as just another Hollywood remake.
• A bizarre Toy Story 3 plot leak from an unlikely source, the Wall Street Journal:
"Woody the cowboy and his toy-box friends are dumped in a day-care
center after their owner, Andy, leaves for college." Has it really been
11 years since the last film?
• David Boreanaz (Angel himself!) as a Cold War Green Lantern suffering from post-traumatic stress syndrome? And Kyle MacLachlan as Cold War Superman? Neat.
• The Pentagon successfully shot down their spy satellite
the other night in an extremely impressive display of saber-rattling
for the Chinese. Message sent? "China, you may well be able to send
satellites loaded with bombs to take out other satellites, but we can
blow them up before they even get into orbit."
Read More