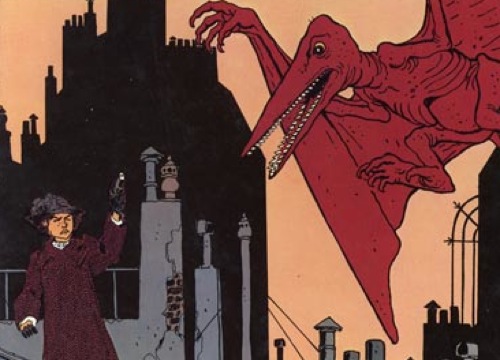 • One of the interesting little tibits Zoe Saldana dropped about Star Trek XI is that Nichelle Nichols is wandering around, claiming to have named Uhura. Bull.
• H.G. Wells vs. Jack the Ripper… in song! Time After Time becomes a musical.
• In case the other night's episode of Lost still left you with an appetite to whet, io9 has everything you need to know about the Lost "mobisodes"… whatever the hell those are.
• Not so surprisingly, a new, full-length Trek XI trailer will be coming this summer.
• Luc Besson has bought the rights to Les Aventures Extraordinaires d'Adele Blanc-Sec, France's premiere hard-drinking, pterodactyl fighting journalist.
• "The worst Star Wars rip-off isn't Star Crash, it's < href="http://io9.com/348635/a-star-wars-riff-that-only-a-stoner-could-love">Galaxina, the 1980 vehicle for Playboy Playmate Dorothy Stratten, who was murdered soon afterwards. And of course Galaxina has to have its own annoying cantina scene, complete with aliens pretending that they can drink through the holes in their rubber masks.
• It's a rare comic book movie that gets me excited enough to mention something as blah as the poster, but Iron Man is that movie.
Read More