Cronenberg's Videodrome Turns 25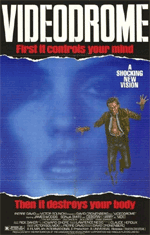 Twenty-five years ago today, a weird sci-fi/horror film from an up-and-coming genre director was given an unceremonious theatrical dumping by its studio, where it grossed a paltry $2.5 million (total) at the box office and was greeted mainly with critical scorn. Despite Andy Warhol calling it "The Clockwork Orange of the 80s," it was yanked from theater screens after less than a month, and was treated like a forgotten stepchild for years. And then something incredible happend: The director became one of the world's most acclaimed filmmakers and the film became an eerily prophetic vision of our modern day Internet society where nearly everything is broadcast to the public. The movie? David Cronenberg's Videodrome .
Now regarded as one of the best films of the 80s, Videodrome may be 25 years old, but it's feels like it's 25 years ahead of time. Watching it today, the concept of Videodrome, mind control through television, feels like it came true years ago; TV monitors of one form or another play a major role in our lives, from camera phones to the Internet itself (hey, you ain't reading this in a magazine).
Videodrome was also instrumental in Cronenberg's development as a filmmaker; the film bridged his early, gorier and more commercial work with the more personal films he makes today. It's his first masterpiece, and it's also the movie that started a string of brilliant, career-best performances from actors in Cronenberg films: James Woods here, all the way to Viggo Mortensen's Oscar-nominated performance in Eastern Promises. And best of all, the film is unapologetically horror.
Read More