Criminals Create Daleks, Sell Them On eBay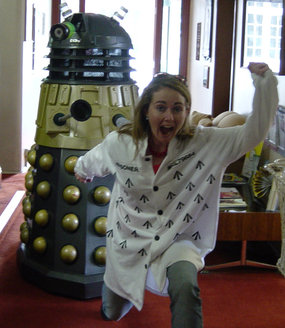 Criminals are a superstitious, cowardly lot. They're also career troublemakers. So how to keep them out of trouble en masse, behind the bars of the jailhouse? Some wardens train the prison population to re-enact Michael Jackson's Thriller. Others make their cowardly, superstitions in-mates build Daleks.
Which, needless to say, is what the Warden of the Woodford Correctional Centre in Queensland, Australia, is doing. They have recently put the finishing touches on on a full-size Dalek replica complete with wheels and voice changer, and with space for a ride-in occupant.
The prisoners are now auctioning the Dalek on eBay, with an end date of February 8th. All proceeds will go to the Royal Children's Hospital in Brisbane. It's always nice to see the criminal population give back to society in the way of murderous, robot squidlings.
Crims Create Daleks To Help Sick Kids [ABC Brisbane]
Read More