Crazed Rural Mayhem: Lonely Joe Trailer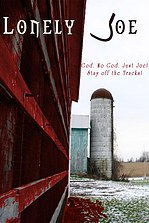 I have a small house in the Catskills area of New York, a quiet, mountain place on a stream where I go to write on weekends. Sometimes, when the heavy blanket of night falls, and twigs crack in the silence as owls hoot in the distance, I wonder what evil lies in the forest and hills that surround me. As Larry Fessenden showed well enough in Wendigo (and as Washington Irving's showed in Rip Van Winkle), rural New York can be a foreboding place.
The filmmakers who created Lonely Joe prey upon that fear of deep, dark upstate New York. The conceit? A Manhattan reporter, whose brother was murdered by a serial killer, looks into 30 homicides that have occurred in the last half century. Here's a clip that'll grab you from the start. With a scythe-wielding killer, the frantic run through the cornfield makes for real drama. Gruesome!
Read More