Buffy Reunion in L.A. — Sans Buffy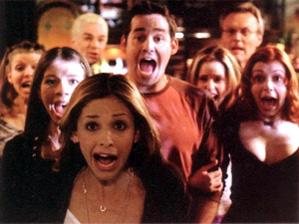 Big news for Buffy fans — the Paley Center for Media (formerly The Museum of Television and Radio) is hosting a Buffy The Vampire Slayer reunion in Los Angeles. The event will bring together series-creator Joss Whedon, along with his ensemble cast including Nicholas Brendon (Xander), Emma Caulfield (Anya), Seth Green (Oz), Amber Benson (Tara), Michelle Trachtenberg (Dawn), and James Marsters (Spike). As per usual, Sarah Michelle Gellar (Buffy) is nowhere to be seen. I can understand that Anthony Head (Giles) isn't going, but come on Buffy! Too busy working on Southland Tales 2?
On the bright side, everyone's favorite bad girl Eliza Dushku (Faith) will be in attendance. Hopefully she'll give us more details on Dollhouse, the new Joss Whedon series she's slated to star in.
For those of you in the Los Angeles area (or those of you looking for an excuse for a road trip) the Buffy reunion will take place on Thursday, March 20th at the Cinerama Dome.
Get ticket info here.

Read More