Blood Shot Eyes Brad Dourif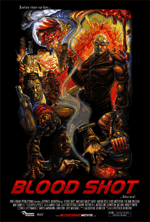 Movies Online is reporting that Brad Dourif and Lance Hendrickson have joined the cast of Blood Shot, a vampire movie that's supposed to be a cross between Army of Darkness and Kill Bill . The movie, which just began shooting in Los Angeles, is about a bloodsucker who works undercover for the government. Says Movies Online, the vampire's "sole mission is to protect America from detrimental threats.
Meanwhile, Rip, a rogue cop, knows of the vampire's existence and will
stop at nothing to destroy it, even if his wife, job, and sanity are at
stake." But when terrorists decide to blow up the City of Angels, the vampire and the cop band together to defeat the evil-doers.
The project is a remake of a really bad short from 2002 (pictured) — but the idea of a vampire and the government still seems redundant somehow. Has anyone else seen the original? Do you want your vampires to be scary or superheroes?
Read More