Battlestar Galactica will get Full Fourth Season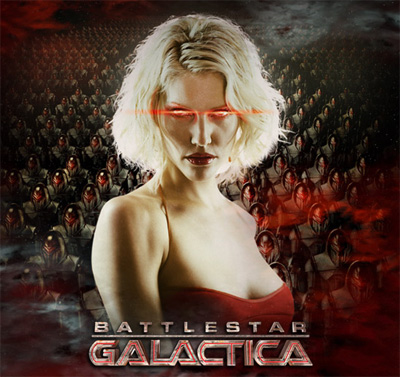 Now that the WGA and Hollywood have withdrawn their claws, called an end to their three-month cat fight, and re-initiated the professional pillow-and-tickle-fight for which they are known, the big question for the Internet's legion of spiritual Viper Jockeys is whether or not Battlestar Galactica will go back into production.
Just a month ago, it looked bleak. The cast and crew were grumbling about all production on the show being halted indefinitely. Fourteen of twenty-two fourth season episodes had been filmed, but would the SciFi Channel bite on the expense of ramping up production for 8 episodes of a show that will not have a fifth season by creative decision?
Excellent news, then, to fans who want to see the Galactica reach
earth. The SciFi Channel has apparently told series creator Ronald D.
Moore that they want to complete the entire 22 episode run.
Unfortunately, it looks likely we won't get those last episodes until
late 2008 or even 2009, making this the final season that just will not
end.
Battlestar Galactica Will Find Earth [Chud]
Read More