Uncategorized
Auto Focus: Hitchcock Actor on His Best Films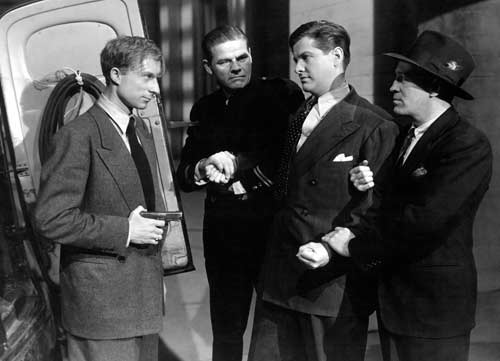 You don't make dozens of films under the direction of artists like Alfred Hitchcock, Charlie Chaplin and Jean Renoir without gathering some educated opinions about what makes a good movie. We asked Norman Lloyd (left in photo from Hitchcock's Saboteur) to review his 65-year acting career and highlight the films he considers the very best among them. He clearly has a certain vintage in mind — with one notable exception, all his selections are from his early years as an actor, when Hitchcock and Chaplin were at the top of their game.
Lloyd's Favorite Lloyd Pictures
• Saboteur
• The Southerner
• A Walk in the Sun
• Spellbound
• The Flame and the Arrow
• Limelight
• Dead Poets Society
Besides starring in several of Hitchock's films, Lloyd was a producer and director on the TV series, Alfred Hitchcock Presents, so he's very well-steeped in the director's craft. His favorite of the master's suspenses? Psycho. Even though he doesn't believe it's a typical Hitchcock flick.
Hear more from Norman Lloyd in this video. And don't forget to let us know — what's your favorite Hitchcock film?

Read More