Interviews
3X3: Ween, Carbon Leaf, and Magnetic Fields on Movie Music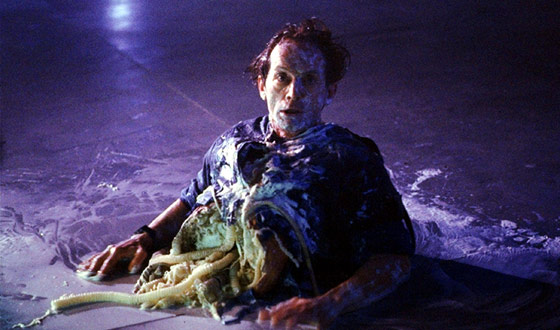 Ennio Morricone. John Williams. Danny Elfman. The impact of
composers on cinema is the subject of college theses and film retrospectives.
But what about the reverse? How have movies influenced musicians? Inspired them?
Even effectively documented them? AMC asked three major indie bands those three
very questions. No one, as it turns out, cited The Big Chill .
The Band: Ween
The Artist: Guitarist Mickey Melchionda a.k.a. Dean Ween
Film Appearances: It's Pat
Their Music in Movies: Beautiful Girls , Road Trip , Dude, Where's My Car?
Movies in Their Music: The song "Buenas
Tardes Amigo" was inspired by spaghetti Westerns and is on a CD (Chocolate &
Cheese) dedicated to actor John Candy.
Favorite Concert Film: Live at Pompeii. ("Pink Floyd at their best.")
Recommended Soundtrack: The Man With the Golden Arm. ("Every time Frankie gets the craving that creepy music comes on, almost like when
the shark is on the prowl in Jaws.)
Fun Fact: A Ween song was used as the wedding song for David Duchovny and Tea Leoni.
The Band: Carbon Leaf
The Artist: Lead singer Barry Privett
Film Appearances: Cherry Falls , Wicked Spring , Night Fall
Movies in Their Music: "When I read that Roy Scheider died, it brought me back to what a huge influence Jaws was on me as a kid… I found myself working the line, "Roy Scheider never dies" into a song that came out of nowhere. It's becoming a song about the immortality of your youth's connection to certain things."
Recommended Soundtrack: "If you listen to the Aliens soundtrack (by James Horner) it's just amazing as a stand-alone score… When you watch the movie, so much of it is buried."
Favorite Concert Film: No Direction Home, Scorsese's film about Bob Dylan. (In a word: "Great.")
Fun Fact: Named the Most Eligible Bachelor in Virginia by Cosmopolitan Magazine 1999.
The Band: Magnetic Fields
The Artist: Multi-instrumentalist and vocalist Stephin Merritt
Film Appearances: Kiki and Herb Reloaded
Their Music in Movies: Shall We Dance, Intermission, Pieces of April, Someone Like You, Chutney Popcorn
Movies in Their Music: The entire album The Charm of the Highway Strip was inspired by the movie Carnival of Souls.
Favorite Concert Film: "Don't Look Back is probably never to be surpassed, but I happen to love the Ramones and Metallica documentaries End of the Century and
Some Kind of Monster. They make a great double feature."
Recommended Soundtrack: "Forbidden Planet sounds like nothing else, partly because its composers, Bebe and Louis Barron, invented the technology they made it with. Their onscreen credit was not for music but for Electronic Tonalities."
Fun Fact: "During the recording of our album i, I sang the whole record with a book about (Japanese director) Ozu on the music stand, to remind myself to
eliminate histrionics and just sing."
(Photo of Stephin Meritt by Marcelo Krasilcic)
Read More