William H. Macy Says He'll Still Be Re-Animator Bush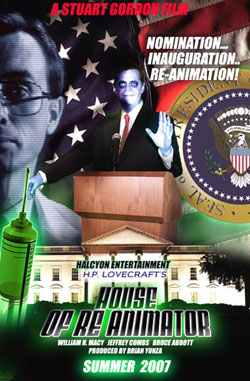 As much as I love Re-Animator, there's an old Hollywood adage that says, "When your next project is working with Stuart Gordon, your career is effectively over." How else do you explain William H. Macy going from an Oscar nomination and working with the Coen Brothers to starring in the next Re-Animator flick?
Asked during Sundance about whether or not he was still due to star in the troubled House of Re-Animator, Macy replied: "Yeah, I'm still a part of it. Stuart Gordon… he works slowly but surely."
Slowly indeed. House of Re-Animator has been a troubled production. The plot apparently involves a U.S. vice-president who must be "revived" by Herbert West to help save a beleagurered, Bush-like administration. Macy has the Bush role. Stuart Gordon claims the film is too political for Hollywood, which was why he has had difficulty securing funding, but I'm betting that the city that embraced Michael Moore has no problem with Cheney as a zombie. The real issue is how crappy the last sequel was.
Macy Still Rules In Re-Animator IV [Sci Fi Wire]
Read More