Why the Doomsday Trailer Is Effective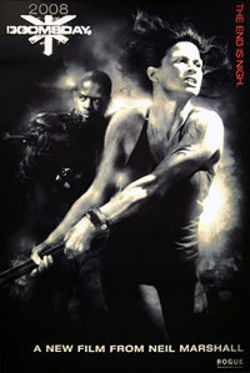 One word: Intensity. Yahoo recently posted a compelling HD trailer for Doomsday, director Neil Marshall's upcoming SciFi/horror flick starring Bob Hoskins and Rhona Mitra. The trailer, which looks like a melding of 28 Days Later , Escape From New York and Mad Max
begins by proclaiming, "This is the end of the world." There's a gritty,
post-apocalyptic cityscape in the background substantiating that claim. The story? Millions
have been infected by The Reaper, the mother of all viruses, and everyone's been forced together in a vast pogrom-like area that was formerly Scotland.
When the virus rears its ugly head again many years later, people
are forced to return to the containment zone (which is populated
by the offspring of the ill). Says Hoskins, "If there's such a
thing as hell on earth, that's it." When someone screams: "We're gonna catch 'em, cook 'em and
eat 'em," I, for one, am tantalized. Doomsday is set for release on Friday, March 14.
Read More