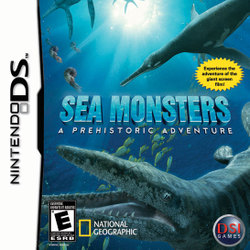 The Nintendo DS doesn't get all the press that the Wii does, but guess what? It's sells way more (and you'll never find it out of stock). Later this week, Sea Monsters: A Prehistoric Adventure will be released for the popular handheld gaming system. The cool thing about this one is that it allows you to experience the world of underwater dinosaurs as the dinosaurs themselves. Say the game makers, "Start your adventure in an area of inland sea that will only get more
dangerous as time passes. Take on foes, hunt for prey and unlock hidden
challenges. Your goal is to find a way to truly escape these waters." Another objective is to collect fossils to create massive undersea monoliths. Since the game is produced in cooperation with National Geographic and is based on an IMAX 3D movie of the same name, it should be well-researched as well as worthwhile. Who knows, you might learn something while you play.
Read More