USA Today's X-Files Exclusive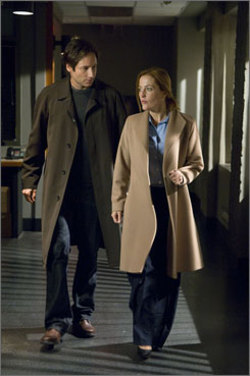 Not only does USA Today have the scoop on the new X-Files movie from creator Chris Carter, it also has the first look at an older, more world-weary Mulder and Scully (left, from 20th Century Fox). Shockingly, the mythology from the TV series will be gone when the movie hits theaters this summer. Writes Scott Bowles, "The film, which remains without a formal title, will dump the
long-running 'mythology' plotline — that aliens live among us and are
part of a colonizing effort — that made it one of the most popular
television shows in the late 1990s but ultimately drove away some
viewers who found it too complex and ambiguous."
Adds Carter, "We want a stand-alone movie, not a mythology conspiracy one." Carter also admits that the reason for the delay in the movie, which he wanted to film right after the show ended, was due to a contractual dispute with FOX. Finally, Carter actually believes the TV series was best loved for its "intellectual romance" between Mulder and Scully. Expect more of that in the film—along with some creepy SciFi and monsters.
Read More