U.N.I.T. Comes To Torchwood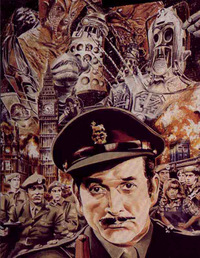 While I stoically watch Doctor Who despite my distaste for Russell T. Davies—forgiving it because of my delight in its revivification in any form—I don't give any such concessions to Torchwood: It's total garbage. This show about hedonist fools who, when not totally screwing up, just stumble idiotically from shag to same-sex shag has just one thing going for it: the possibility of some Sapphic heat with Martha Jones.
A slim possibility, that is. According to the latest issue of the Radio Times, Martha Jones will be coming aboard as an agent of the United Nations Intelligence Taskforce (U.N.I.T.), the Doctor Who universe's international organization headed by The Brigadier and dedicated to investigating extraterrestrial/paranormal threats.
Sadly, U.N.I.T. is definitely not the sort of organization that's going to approve of Martha Jones tongue-kissing sexy space lesbians. What sickens me is that this news actually has me interested in Torchwood, not for the show or even for U.N.I.T. but because it might reintroduce Nicholas Courtney, the Brigadier himself. That would be the coolest thing to hit Doctor Who short of a Tom Baker appearance. Let's keep our fingers crossed.
Martha's status confirmed [Doctor Who Forum] (via io9)
Read More