Two DVDs Come Out for The Mist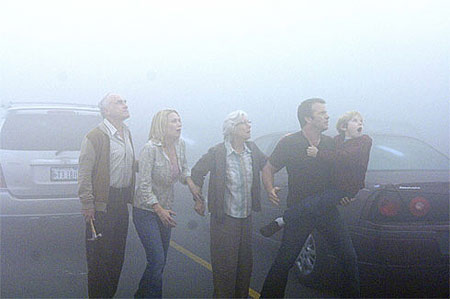 Although Stephen King and Frank Darabont's The Mist generated mixed reviews to be sure, the movie nevertheless raked in $25 million at the box office. To capitalize on its critic-resistant popularity, Genius Entertainment and The Weinstein Company are releasing not one, but two DVD iterations: a single- and double-disc edition.
While both versions will feature an audio analysis with Darabont, eight deleted scenes with optional commentary, and a conversation with King and Darabont, only the double disc offers the originally-conceived black-and-white cut of the film alongside the color theatrical version. The second disc also delivers five featurettes: "When Darkness Came: The Making of The Mist," "Taming the Beast: Shooting Scene 35," "Monsters Among Us: A Look at the Creature F/X," "The Horror of It All: The Visual FX of The Mist" and "Drew Struzan: Appreciation of an Artist." Like most DVD double-dips, the single-disc edition will prove worthless once both street on March 25 (according to IGN).
Read More