The Selling Point of "One Missed Call"? Director Eric Vallete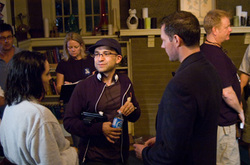 One Missed Call is not only the first new release of 2008; it's also the only one opening this weekend. A remake of Takashi Miike's 2004 J-Horror flick, the film concerns a group of students who receive mysterious phone messages detailing the sound and time of their deaths. While the lack of an advanced screening isn't a good sign and recent horror rehashes have failed more often than succeeded, One Missed Call still merits your attention for one good reason: director Eric Vallete.
I first met Eric at the 2003 Fantasia Film Festival in Montreal when his Malefique (a hit at the fest) was first screened in North America. Eric and I met again when he was pushing Malefique at the 2004 American Film Market where we both coincidentally watched the original One Missed Call. Not impressive. Indeed, unlike most recent remakes, the first One Missed Call is problematic enough to demand an upgrade, not just an update. The concept is scary enough; here's hoping the US version delivers where the Japanese one failed. Good luck, Eric!
Read More