The Invincible Iron Man Fan Film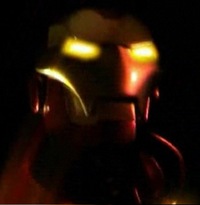 I'm a sucker for enthusiasm, as long as it's at least lightly dashed with a modicum of competence. It's one of the reasons I love being a geek in today's technological age: The earnest fan can fund his or her own loving recreation of a favorite comic book hero just by selling a few valuable back issues then recruiting the more picturesque of the schlubs who they know from the local comic book store.
This fan film by David Guivant does just that. Beating Paramount's own version to the punch, The Invincible Iron Man is a two minute labor of love that does more on a shoe-string than film or television could do for hundreds of millions a decade ago.
Better yet, it's a real fan film, with many of the Iron Man universe's lesser personalities having bit parts: Pepper Potts, Happy Hogan, The Black Wido, Ms. Marvel, Nick Fury and (God yes) the power-ring-wielding Mandarin. If Iron Man is a success, Paramount would do well to approach Guivant about heading up a spin-off TV series: He's got the chops.
Exclusive: New Iron Man Fan Film [Screen Rant]
Read More