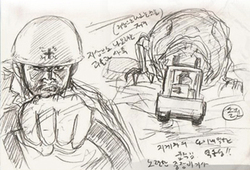 SciFi Japan got their hands on some primitive but telling concept art for The Host 2 feature that begins shooting this summer. The followup to the very successful South Korean monster movie which the New York Times called a "loopy, feverishly imaginative genre hybrid about the demons that haunt us from without and within" will be a prequel informed by the same politics and social upheaval that made the original so good. Of this particular piece of artwork SciFi Japan says, "The sketch describes a scene where a forklift driver blocks a monster
that is trying to climb to the surface from underground. In the press
release, (scriptwriter and artist) Kang Full said, 'I wanted to maintain the grace of the original
film and to overcome the difficulties and limitations a sequel could
have. And I wish to show more action with multiple monsters.'" More monsters? Bring it on!
Read More